We ensure that all processes adhere to international regulatory standards, providing you with peace of mind and compliance.


Worldwide Air Transportation
We deliver your shipments by air to any destination across the globe, ensuring prompt and efficient service.


We offer funding services to support you in achieving your goals and business objectives.


24/7 accessible storage facilities, ensuring your goods are secure and available when you need them.

We offer the option to consolidate smaller shipments into one cargo load, optimizing shipping rates. Site inspections can be conducted as required.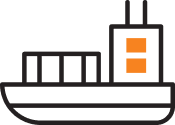 Whether your load fills a container or not, our services are flexible to accommodate your specific needs for Full Container Load (FCL) or Less than Container Load (LCL) shipments.


With a commitment to professionalism, all shipments are maintained in top condition through careful handling and packing.

We provide 100% insurance coverage for your shipments, protecting against any potential damage or risk.

Import/Export Document Handling
We ensure meticulous tracking and management of all shipment and transaction documents through professional systems


Through our extensive contacts, we swiftly and efficiently provide you with genuine spare parts

Equipment Cleaning, Maintenance, Repairs & Refurbishing
Skilled technicians are dedicated to keeping your equipment running smoothly and at optimal performance levels. We offer comprehensive cleaning, maintenance, repairs, and refurbishing services.

We handle all necessary export certification, transportation, and installation, while also providing guidance on training, equipment maintenance, and integration into your existing fleet.
Have any question? Want to work with us? Drop us a message and we're ready to get back to you soon